Disclosure: This post is sponsored by Savings.com. All text and opinions are my own. For my full disclosure click here.
My family is a very active family! As a mom, it's important to me that we stay active and eat healthy to instill healthy habits in our children. As a family, my husband and I walk several times a week while our big kids ride their bikes, and we push the baby in the stroller. I am currently 6 1/2 months pregnant and have committed to 100 workouts before baby gets here. Those workouts include either walking, swimming, or prenatal workout videos. I've already knocked out 63, so I am well on my way to reaching my goal.
Our big kids are also involved in organized sports. My oldest daughter plays softball and basketball, while my son enjoys baseball and basketball. For a large part of the year, you will find us at a ball field or basketball court somewhere watching one of the big kids play.
Sports can get expensive, especially with growing children. Not only do they need sportswear for practice, but specific gear for each sport. I don't know about yours, but my kids grow out of their shoes and clothes almost every season. Unfortunately, we missed fall baseball this year because my son fractured his elbow the day of his first practice, so we are getting prepared right now for basketball season.
Here are several easy ways my family saves money on sports without a lot of effort:
I shop sales and use coupon codes when I shop online. If you look for sales and coupon codes, you can usually find them readily available. Typically by investing just a few minutes before making a purchase, I can save at least 10%.
If our kids want sports equipment that is unusually expensive when there is a cheaper alternative available they usually request it as a gift for their birthday or Christmas. For example, my son already had a bat but wanted a larger barreled more expensive bat for the next baseball season. Since this isn't something that we would typically purchase for the new season as he didn't technically need a new bat, he asked for it for his birthday from his grandparents. Also, he recently has grown out of his bike. Instead of us running out and buying a new one, my mom bought him one for his birthday.
We also put limits on the amount we will spend. For example, we may say we will spend up to $75 on new basketball shoes. If they want something that cost more than that, we will give you the opportunity to earn extra money to pay the difference, or they can use the money they've already saved.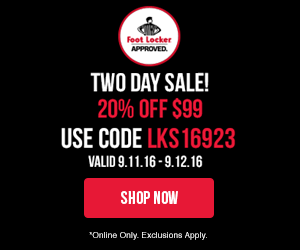 If you are like us and about to enter a new sports season (yay! basketball), I found an awesome coupon at FootLocker.com that I wanted to share with you.
20% Off Orders of $99+ at Foot Locker 

Code: LKS16923

Dates: 9/11 – 12

Details: Some exclusions apply.
Here is what I am thinking about purchasing using this coupon.

Nike Flex Trainer 6
Y'all my tennis shoes are totally worn out. I've walked so much in them; it is time for new ones. Aren't these Nike Flex Trainer 6 the cutest? I always buy my kids shoes first, and leave myself out, but it's past time to make a new purchase, and since I don't want to buy maternity clothes (it's our last baby), I think I'll treat myself to new shoes!
Jordan Ele Print High Crew Socks 2 Pack
Miraculously, both of the big kid's basketball shoes fit from last season. I think we must have bought them too big, but I'm not complaining now. However, my big kids have gotten into crazy socks recently. They think they are just awesome, and both have asked for crazy socks for their upcoming basketball season. I know my daughter would love these. Since they don't go on sale very often, getting 20% off my total purchase will help!
Jordan Ele Print High Crew Socks 2 Pack
Since they are pretty close in age and both sports fanatics, they often like the same kind of patterns. My son would love these Air Jordan socks.
Recently, my son threw their basketball on top of the house by accident. By the time we got it down it had unfortunately warped. Since it's been so hot, we were waiting to replace it while we looked for a good deal. I think this basketball is exactly what we are looking for, and the price is fabulous.
What about you? Which items grabbed your attention?